CoSchedule Review After Four Years of use. I had to go back and look at my invoices to be sure and it's actually been a bit longer but the first few months I didn't really use it because I was in the middle of making some changes to our other sites.
Like most bloggers, I stay pretty busy. When I began using it I was running this blog, a sewing blog, and a travel blog. Now I'm running those three plus a photography blog and scheduling all of my husbands' social media. Oh, I also went back to school to get my RN. Without a doubt, one of the toughest parts is balancing it all. I honestly don't know how I'd get my post scheduled and keep track of everything that needs to be done without the help of Coschedule.
WHAT IS COSCHEDULE
CoSchedule is an all-in-one blog post schedule and social media management tool that really is useful for any blogger. In the last year, Coschedule has added a lot of great features! One of the coolest is the ReQueue! Unlike other social automation tools, ReQueue interacts with the rest of your social schedule. It takes into account everything you've got on the calendar, promotes your content at the most optimal times, AND recalibrates its schedule when other campaigns are going out at the same time!
HOW I USE IT
Using CoSchedule has truly changed the way I manage my blog's content calendar and has resulted in increased visitorship to my articles and has kept my social media accounts active and engaging. I spend about 30 minutes every-other-week scheduling posts for each of my sites. With CoSchedule I have a visual board/calendar where I can see all of my past posts and upcoming ones. I use a combination of icons and color-coding to distinguish my different blogs and the type of content I'm posting. I'm able to see which post is performing well and those that may need to be tweaked. The great thing about CoSchedule is that you can make it work for your blog in a number of ways.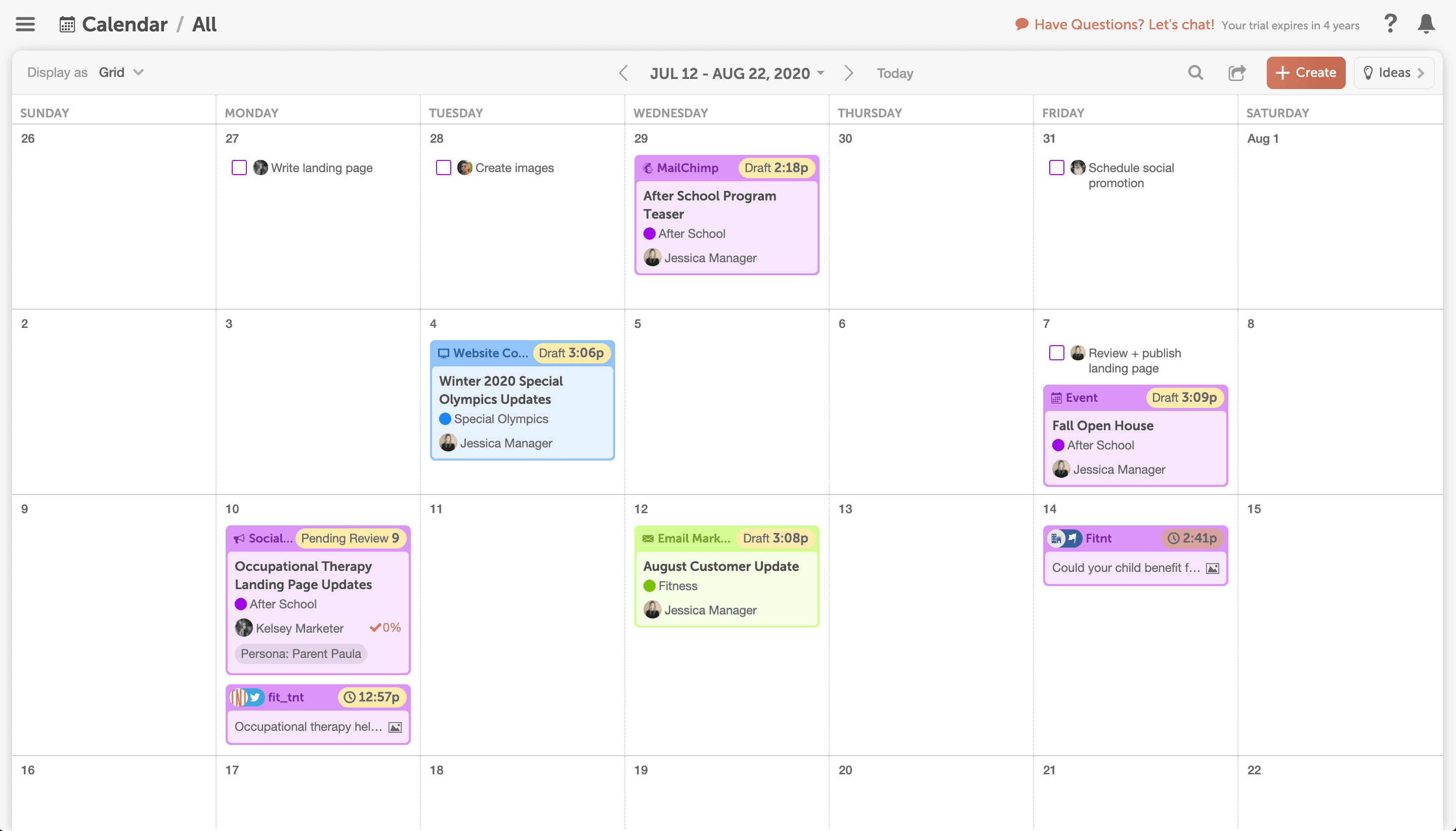 CREATE CALENDAR VIEWS FOR EVERY SITUATION
Without a doubt, one of my favorite parts of CoSchedule is the calendar layout! It's great being able to see when I'm planning a month at a time.
PRICING
I'll admit at first I wasn't sure about paying for scheduling service. I signed up for the free trial and within a month I was hooked! Personally, I pay for the individual marketing calendar. This plan works best for me since I have multiple blogs and need the additional social media account integrations. You can read more about their pricing here.
Most pricing packages offer trials as well, so you can really get to know the features and find the right fit for your business. You can pay month-to-month or yearly.
HERE'S A QUICK VIDEO OVERVIEW OF COSCHEDULE
PROMOTE LIKE A TEAM OF SOCIAL MEDIA EXPERTS
Eliminate the guesswork In social scheduling. With so much competition, it's tough to get through the noise. Best Time Scheduling spaces out your messages for maximum coverage, getting the most social engagement every time.

Schedule dozens of social media messages in bulk. Create a predefined social sharing plan to reuse, again and again, so you can focus on creating exceptional content, not manually filling in your social queue.

Instantly share content from anywhere on the web. Curate and share content with followers without ever leaving the browser. No more copy/paste commands or switching from one tab to the next!

Automatically Re-Use Your Best Social Messages

without the manual work.

ReQueue fills in the gaps of your daily schedule (with intelligence), not manual guesses! It takes into account your entire social schedule, uses Best Time scheduling to promote your messages at the most optimal times + finds the gaps in your schedule (so you don't have to).
LEARNING TO USE COSCHEDULE
If you're concerned about having to learn how to use it, don't be! CoSchedule has an extensive video library filled with tutorials, here are just a few:
5 Minute Tips
Working With Newsletters in CoSchedule

How to Write Consistent Engaging Messages

Master Your Podcast Management Using Custom Content
Quick Disclaimer: This is not a sponsored post. CoSchedule is a tool that I use, love, and pay for. But if you sign up for a free trial of CoSchedule and become a paying customer, I will get credit towards my subscription. It's a win-win.