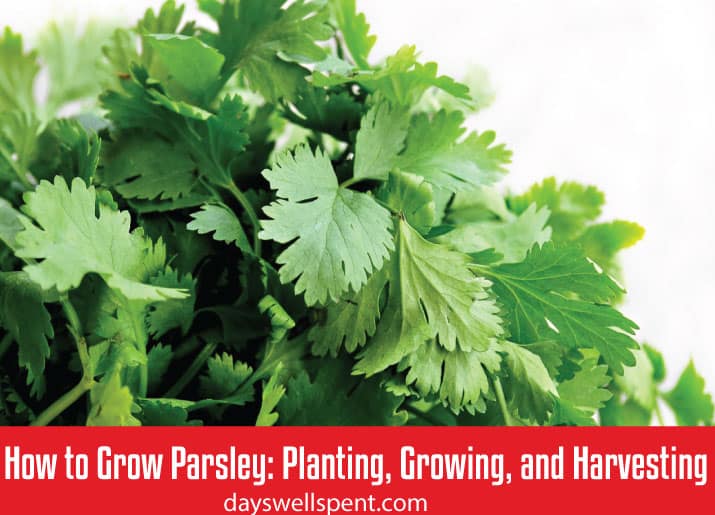 Parsley is an excellent herb that's easy to grow, looks great, is high-yielding, and is very nutritional. Pest and disease-free for the most part, it's really the perfect addition to every garden. In this post, I'll cover How to Grow, Plant, and Harvest Parsley.
VARIETIES OF PARSLEY
Parsley consists of three major varieties: curled leaf or common parsley, flat-leaf or Italian parsley, and the lesser-known Hamburg or parsley root. Curled parsley has a more ruffled appearance than flat-leafed parsley, but both are equally lush. Parsley root is cultivated for the root and not the leaves.
SITE & SOIL
Set plants in full sun or partial shade, and rich, moist soil with a pH between 5.5 and 7.0. If you are still working on your soil you can improve the quality of the soil by mixing in some aged compost with the top layer of existing soil before planting. Or, if you prefer to grow parsley in pots, fill them with an organic potting mix.
SHOULD I PLANT PARSLEY SEEDS OR PLANTS?
If you are trying to decide between buying plants or seeds I say go for seeds. Parsley is very easy to grow and grows quickly. We usually let our plants go to seed. then we collect a large portion of the seeds to re-plant. I also like to start some inside about 3 weeks before I plan to put it outside. We like to plant enough to use, dry and for the caterpillars to enjoy.
HOW TO GROW PARSLEY
Seeds can be sown in the spring when the soil temperature reaches 50 F. Although hardy, parsley goes to seed in its second year, so it is usually treated like an annual. Thankfully here in Texas the plants usually grow year-round if I remember to cover them up when it freezes.
Water weekly if it doesn't rain. You want to make sure you never let parsley dry out completely. 3-4″ of mulch will help keep the soil moist but don't cover the crown of the plant or the plant will risk getting rot.
HARVESTING PARSLEY
Gather parsley stems and leaves as needed. Harvest parsley by cutting the leafy stems from the base of the plant—this will also serve to make the plant grow back bushier. Never cut more than 20% of the plant.
HOW TO USE PARSLEY IN THE KITCHEN
Parsley pairs well with meat and egg dishes, potato and pasta dishes, vegetables, rice, salads, and soups, as well as cottage cheese and herb butter. Add chopped parsley to a dish near the end of the cooking process or sprinkle it on vegetables or salads immediately before serving to keep the fresh flavor.
DRYING PARSLEY
In this video, I show you how easy it is to dehydrate fresh parsley, either from your garden or the grocery store. Dehydrating parsley in a dehydrator is quick, easy and it preserves the color and flavor of the parsley.
STORING
Fresh parsley should be stored in the refrigerator wrapped loosely with paper towels. Dried parsley should be stored in a cool, dry, dark location. Parsley can also be frozen.
SAVING SEEDS FOR PLANTING
Parsley is an annual in the North, growing from spring until freezing weather. In milder climates, it is frost-proof and lives through winter. The second spring after planting, the plant blooms, goes to seed, and then finally gives out. When you see it send up a flower stalk you stop harvesting the leaves because they will be bitter. After the bloom goes to seed collect the seeds and store for up to five years.
TROUBLESHOOTING WHEN GROWING PARSLEY
Parsley (along with dill and fennel) is a favorite food of the brightly striped parsley worm caterpillar, which becomes the treasured black swallowtail butterfly. Some gardeners, like Scott and I, plant enough parsley for us and the beautiful butterflies-to-be, which are likely to appear in late summer and fall. While parsley worms may eat much of the plant, they won't kill it, and giving them habitat is worth it. A serious pest, though, is the whitefly. To get rid of it, spray the undersides of the leaves thoroughly with insecticidal soap.
Common Questions about Growing, Harvesting, and Preserving Parsley:
Is Parsley an Herb or a Spice?
I know you're finding the dried parsley in the spice section of the market and may even have this in your own spice rack at home. However, whether it's dry parsley or fresh parsley, it is indeed an Herb.
Is parsley an indoor or outdoor plant?
Parsley will grow well, either indoor or outdoor. To produce a healthy indoor parsley plant, you'll need:
Full sunlight,
Clean Container of about 10" around/wide and same 10" deep
Organic potting soil
Sharp Scissors kept clean and free of debris for harvesting parsley plants.
Keep soil moist (caution to empty any excess water in the saucer of pot)
Does parsley regrow after cutting?
Parsley will grow again in ripe form - it's true. Basically, the larger you cut the stem, the bigger the plant gets and the bigger the yields.
Does parsley grow back every year?
Parsley is an annual and not an annual. The plants then grow in one season, and the flowers bloom when they reach colder temperatures, and the seeds die. The best way is to replant it in spring so it can grow throughout the summer and winter.
What should not be planted with parsley?
What should we avoid with parsley? Alliums: Garlic, onions, shallots, etc., may hinder parsley growth. Lettuce: When planted too near lettuce, parsley will help lettuce grow in seed early.
When can I put my parsley plant outside?
Plantations. Seeds are planted in outdoor areas in early summer or late March for growth in spring. Directly sown outdoors in the spring or after warming of soils, preferably around 73°F. Soak parsley seeds overnight before planting to accelerate germination.
Will parsley grow back after cutting?
It does sprout after it's cut. The greater your stems cut, the better your plant gets and the better your harvests.
Does parsley need sun or shade?
Sun: Parsley is an excellent fit for full and part sun conditions. It is advisable to plant parsley indoors. The sage thrives on moist soils and is drought resistant.
Should I trim my parsley plant?
Trimming parsley increases plant yielding capacity. If thinning isn't sometimes, it will lose energy. Cutting off can prevent it from gaining control and destroying other plants or herbs. In addition, parsley is often cut or pinched regularly.
When chopping parsley, do you use the stems?
You can eat bitter parsley stems; however, they do taste bitter. Therefore, I suggest you only use the leaves in most recipes as well. By arranging the stems together the cut will be easy to remove and easy to use.
What temperature can parsley tolerate?
Hardiness is only around 10 degrees, although winter mulch or Cloches will improve the ice resistance. Where winter is cooler, parsley may be harvested in fall to be planted throughout winter.
Can parsley grow in hot weather?
It is tolerant of temperatures of up to 20 degrees Fahrenheit and makes winter hardy for the USDA zones 9 and above. However, parsley hates hot weather and dies when temperatures rise above 93 degrees.
Do parsley plants grow all year round?
Keep your herbs warm and cold resistant. These are parsleys, marjorams, rosemary, and sorrels. Herb species, such as Sage, can survive outdoor conditions in shady or muddy areas if a lower tunnel protects them.
Be sure to check out all of our other herb videos and articles. If you're ready to delve deeper, check out our herb course. How to effectively harvest, clean, and preserve your fresh